Zeigler Express Buy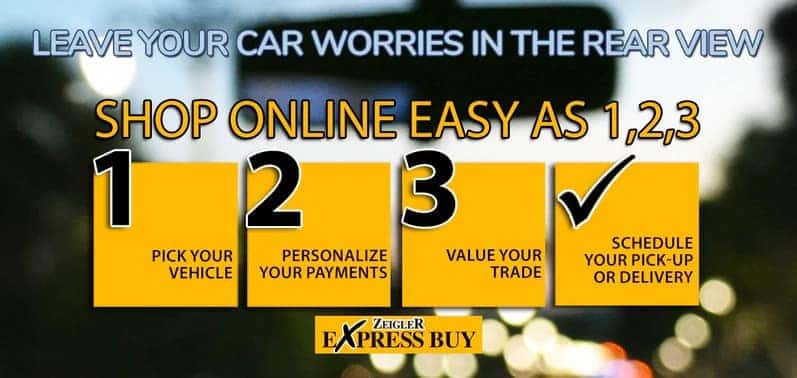 At Zeigler Nissan of Gurnee we are very excited to offer a completely online digital retailing experience. With these awesome resources we know that you can easily and seamlessly get what you need for a very great price. We want to introduce you to the Zeigler Express Buy, a great way to buy and a great way to get stuff done online.

Step 1: Pick Your Vehicle
You can easily research your vehicle on our great website. We have an amazing selection of vehicles available to you, and we have gone ahead and included detailed descriptions of these models on our website. With this resource you can easily find the vehicle that is right or you!
Step 2: Personalize Your Payments
Building your best deal is the next step in the process. This part of the car buying process will allow you to find a great deal and build on it to make sure that you are making a payment that works for you. Working with our financial experts is easy, and they will help you to work out a payment that is ideal.
Value Your Trade


Step 3: Value Your Trade
The next step that you can do is to E-sign your documents. With this feature you will be able to sign on to drive off in the vehicle you love from any location. Changing times like these make this a great move.
Apply for Financing
Step 4: Schedule Pick Up or Delivery
The final step is to schedule your vehicle pickup, or work with us to get home delivery. You will be totally excited to drive off in your new vehicle!