Service Tasks for EV and Hybrid Cars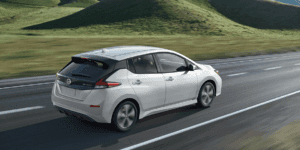 With EV and hybrid vehicles increasing in popularity, more and more drivers are asking our mechanics what it takes to maintain them. After all, most drivers have a basic idea of what service tasks are necessary for gasoline-powered Nissan cars – oil changes, tire rotations, et cetera – but less know what needs to be done to maintain an EV or hybrid car.
Here at our Nissan service center, our mechanics work on hybrid, EV, and gasoline cars. These are some of the service tasks for Nissan EVs and hybrids.
Tire and Suspension Repair
All vehicles have tires and suspensions. Tires that are worn do not get the traction they need to withstand the weather changes here in the Lindenhurst, IL area. And if you want to survive all the potholes in our streets, your suspension has to be up to the task.
Fluid Services
Hybrid vehicles are not that different to gasoline vehicles when it comes to fluids. Our mechanics will check the following fluids:
Transmission fluid
Power steering fluid
Coolant
Washer fluid
Remanufactured Battery Installation
Just like the battery in your gasoline-powered car, the battery in your electric car might need to be eventually replaced. We offer new batteries for your EV Nissan vehicle should your existing one fail.
Cooling and Radiator Systems
Your hybrid or EV car's cooling system keeps your engine and transmission cool. The system consists of many different components, and the radiator is the main contributor. Sometimes the radiator can begin to fail, which can cause your engine to eventually overheat.
Whether you drive an EV, a hybrid, or a gasoline Nissan car, you can get top-notch professional service at Zeigler Nissan of Gurnee. Schedule your appointment today.